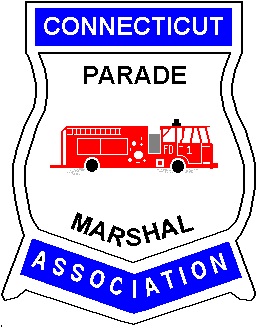 Next CPMA Meeting will be;
Thursday, March 15, 2018, 7:30 PM
Middlebury Fire House,
65 Tucker Hill Rd.; Middlebury

Join us on Facebook or Twitter
Interested in becoming a judge. Contact the Secretary
We are looking for people interested in Rule book overview. Contact Secretary.


Welcome
Since the inception of the Connecticut Parade Marshal Association in 1960, one of the primary goals has been the establishment of a standardized set of rules, governing fireman's parades throughout the State of Connecticut.
I would like to express the appreciation of the association to the many dedicated members who, through the years, gave of their time and energy to make this rule book possible and ultimately, furthered the aims of this organization. Specifically I would like to thank all those committee members who have helped this organization throughout the years.
Lew Clark, President. C.P.M.A.